I was left in charge of cooking a vegetarian/vegan version of Coq au Vin for a dinner party with friends. Only 3 of us were veggie, but I made enough to serve 4-6 as I knew the meaties would want to try some too! I've stuck pretty well to the original classic French version, but bulked the casserole out with extra mushrooms and vegetables.
I think this meal is tasty enough to work as a vegan Christmas dinner alternative, especially as it can be prepared in advance and will go with all the traditional Christmas dinner vegetables.You could serve it as it is, as a pie filling, or even in a giant Yorkshire pudding!
Serves 4-6
2 cups/500ml full-bodied vegan red wine (for a lighter version, use white wine, cider or half wine/half vegetable stock)

4 medium carrots, thickly sliced

4 celery sticks, de-stringed and thickly sliced

20 baby onions or small shallots, peeled but left whole

1lb/450g button mushrooms (or mixed, chopped mushrooms), wiped

1 small clove of garlic, crushed

2 or 3 bay leaves

2 tbsp chopped, fresh parsley

a sprig or two of fresh thyme and/or rosemary

ground black pepper, to taste

2 tbsp olive oil

1 tbsp plain flour
Heat the olive oil in a large pan, on a medium heat. Add the onions and saute for around 5 minutes, stirring occasionally, until golden brown.
Add the rest of the vegetables, garlic, herbs and seasonings and cook for a further 2-3 minutes.
Stir in the flour and coat the vegetables.
Pour in the wine slowly, stirring all the time and bring to the boil to thicken the sauce.
Turn the heat down and simmer, with the lid on, for around 30 minutes, or until the vegetables are tender.
Add a little extra wine or stock if the sauce becomes too thick.
Serve with roasted potatoes and parsnips and/or seasonal vegetables.
Money-saving tip: I used baby onions and button mushrooms as they look appealing, but it's much cheaper to use 'big veg.' instead. You could add pretty much any combination of root or firm vegetables in this recipe, such as green beans, potatoes or squash.
Protein alternatives: As I've removed the chicken from this recipe, it doesn't contain very much protein. To replace the protein, reduce the amount of vegetables slightly and add 4-6 chicken-style meat-free fillets (after you have added the wine), or a drained tin of pulses or pack of cooked, whole chestnuts (10 minutes before serving).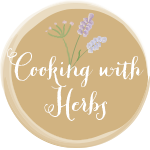 Alcohol-free option: If you avoid alcohol for religious reasons, simply swap it for a good, rich vegetable stock and add some extra herbs and garlic.
I'm adding this recipe to Carole's Chatter: Low Carb Dinners and Lavender & Lovage's Cooking with Herbs.
Pin It