I've been meaning to blog a home-cooked baked bean recipe for some time now, and never got round to it for some reason. I'm having a bit of a bean phase at the moment, so thought it was finally time to write up the recipe. To make the beans a bit more interesting, I decided to serve them with potatoes, mushrooms and halloumi cheese, but they also make a great jacket potato or enchilada filling.
As they take a long time to cook, it's worth making a double batch of these beans to make 2 meals. Simply add some extra spices and a tin of sweetcorn to make a tasty chilli.
Serves 4
For the baked beans:
1 cup dried haricot beans, soaked overnight (or 2 cans, drained - see quick version below)

2 tbsp olive oil

1 small onion, finely diced

1 or 2 garlic cloves, crushed

1 red bell pepper, diced

2 tbsp black treacle/molasses

1 carton passata

1 chilli, finely diced

1 tsp smoked paprika

1 bay leaf

2 tbsp chopped fresh parsley

1 tbsp vegetarian Worcester sauce
To serve:
A 225g/8oz pack of halloumi cheese, cut into 8 slices

4 large Portobello mushrooms, peeled

450g/1lb baby new potatoes
Drain the beans from their soaking water. Boil for 10 minutes in fresh, boiling water, then reduce the heat and simmer for 1 hour. Drain.
Whilst the beans are cooking, make the sauce...
Heat the oil in a large pan on a medium heat. Sauté the onion for a few minutes to soften, before adding the bell pepper, chilli and garlic. Cook for a further 3-5 minutes.
Add the remaining baked bean sauce ingredients, plus the cooked beans. Simmer on a low heat in a covered pan for 30-45 minutes, or until the beans are soft and tender.
Just before the baked beans are cooked, boil the baby new potatoes until tender, drain and drizzle with a little olive oil.
Brush the mushrooms with oil and griddle, bbq or grill/broil for a few minutes on each side. Repeat with the halloumi.
To Serve: Spoon a portion of beans on to each of the mushrooms. Top with 2 slices of halloumi and serve with a few boiled potatoes per person.
Quick version: Use 2 tins of haricot beans instead of the dried beans; Use around two thirds of the passata and cook the tomato sauce for 15 minutes before adding the beans. Simmer for a further 5 minutes before serving.
Camping version: Use 2 cans of baked beans and a tin of ratatouille add 4 tbsp of spicy barbecue sauce and heat. Serve with barbecued Portabello mushrooms, halloumi and garlic bread.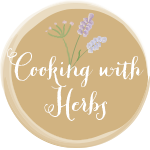 Vegan version: Omit the halloumi or swap it for your favourite dairy-free cheese.
Slow cooker version: Boil the soaked beans rapidly for 10 minutes in a pan, then transfer into the slow cooker with all the remaining baked bean ingredients. Cook on low for 8-10 hours.
I'm entering this recipe to this month's Cooking With Herbs linky hosted by Karen at Lavender & Lovage
Pin It